Bible Code: The Attack at the Rav Kook Rabbinical Seminary



The following words appear near each other in the Bible : Library,
Yeshiva, Rav Kook, Jerusalem, Yeshiva Students.

The 1st Adar B is a day of happiness, Beginning of a new month, Purim is on its way.

The terrorist was Alla Abu-Dim from Jabal Mukhbar in East Jerusalem who carried out the attack which killed 8 yeshiva students.

In the Bible Codes is written that the terrorist lived a short distance, was a neighbor, tenant, from Jebal Mukhbar in Jerusalem, that he took with him a shotgun to commit murder .

(By the Kabbalist – Ahron Levari)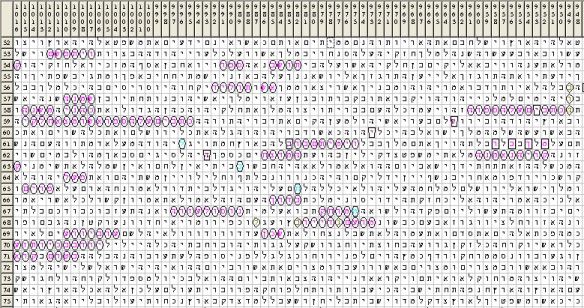 בצופן התנך נמצא כי המחבל הגר במרחק מקום, שכן, דייר, מירושלם, גבל מכבר, נטל עמו מרעם, כשהוא ערבי-יורע, ירד בבכי ותזעק חשבון, ביום ששון ושמחה על שמנה כהני משנה, בטרם קרא (לא הספיקו לקרוא בספרים) על הכתבים על הספר ראש (חודש) מצא חלקי, במרכז הרב בירושלם.
ויתפשם קרועי בגדים (ירה בהם).
הזמן הוא פרים (פורים עדין לא הגיע), כשקצין יורה בו תחת ההרוגים.
אחרים נוסו לעזרה (קפצו מהקומה).
המחבל המרצח וימיתם ברב(ה).
המקום קריה נאמנה (היא ירושלם).
לפי הצופן מרכז הרב הוא זרוע גדולה ליהדות בה לומדים תלמידים מכל הארץ.